MetaTrader 4 Trading Platform

MetaTrader 4 is the cutting-edge online trading platform designed to provide brokerage services to customers in Forex, CFD and Futures markets. This is what you need to establish your own brokerage services business and serve traders in the financial markets.

MetaTrader 4 is a full-cycle trading platform that includes both back-office components and front-end terminals. So, with MetaTrader 4, you don't need any additional software to get your brokerage business started.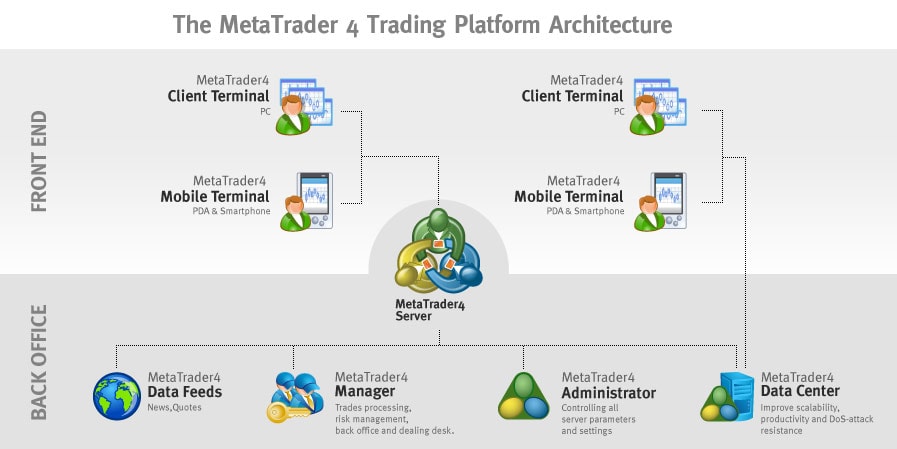 MetaTrader 4 Server is the core of the system where all trade transactions are processed and all historical data is stored and managed.
MetaTrader 4 Manager processes trade transactions and manages traders' accounts.
MetaTrader 4 Administrator enables remote server administration, set-up of financial instruments, databases, etc.
MetaTrader 4 Data Center is a proxy server designed to increase platform scalability and security.
MetaTrader 4 Client Terminal is the trader's tool that enables traders to conduct technical analysis, make trade transactions and work with Expert Advisors.
MetaTrader 4 Mobile Terminals enable trade account management and technical analysis from Pocket PC and Smartphones (mobile trading).
As of today, MetaTrader 4 is one of the most innovative and powerful trading platforms. It outperforms and stands out from competition - on the the average machine MetaTrader 4 can serve over 10,000 traders working with multiple accounts simultaneously. The server is capable of processing dozens of different financial instruments with quotes history going back many years.
From a technical standpoint, the MetaTrader 4 platform is a lot more than just a state-of-the art trading platform utilizing the IT industry best practices and latest developments. Its distributed architecture, robust security system, convenient mobile trading, and innovative automated trading are some of the core competences that give MetaTrader 4 its compelling competitive advantages, thus offering the perfect solution to the most demanding trading needs.

MetaTrader 4 combines an accessible, user-friendly interface with a wide range of powerful of functions, making it a highly flexible platform. It enables to easily and efficiently manage the set-up of traders' groups, financial instruments, databases, data feeders and many others. The Introducing Brokers (IB) service is also available. With MetaTrader 4, you can easily set up an efficient network of your company branches and manage it with a great deal of accuracy.

Among a great many key competitive advantages of MetaTrader 4 are multi-currency and multi-language support, effectiveness and performance, reliability and security. The platform contains Application Program Interface (MetaTrader 4 API) that makes it possible to extend its functionality and integration with any other systems. Moreover, you get access to ready plug-ins designed to facilitate various aspects of the platform operation.
These advantages have made MetaTrader 4 the most popular trading platform in the world. The fact that hundreds of brokerage companies and traders choose MetaTrader 4 is the best testimony that it delivers outstanding value and meets their expectations.